DIY SEO Audit - 101 - Basic Elements of a Website SEO Audit
DIY SEO Audit - 101 - Basic Elements of a Website SEO Audit
Does my website need to be audited, you ask? In this SEO-centric age, yes,it is critical that websites are audited in order to be on top of your game in the online space.
A website audit is one of the key activities which determines how your website will be seen in the search results. It is a detailed analysis of your website in terms of search visibility. With an audit, one will be able to identify why a website is not receiving adequate traffic or why a website is not ranking. Audits also help determine if a website is compliant and if any updates need to be made.Website audits, like and needs to be done on a regular basis.
Is it an easy process? Well, it isn't rocket science but there are quite a few parameters which are taken into account to determine the health of your website. Although, a few critical parameters do take precedence over others.
So what does an audit comprise of?
Here's a list of key factors which constitute an audit. It will be beneficial to ensure all these elements are present and in order.
Website Crawl
To identify multiple on-page SEO elements, the website needs to be crawled. There are several tools available which crawl websites and look at on page SEO factors like title, description, URls, status codes etc. (Certain other SEO factors will need to be identified separately)
Once the website is crawled, you are usually provided with a spreadsheet which will include URLs, titles, descriptions, status codes, heading tags, etc.)
We will go through each one of these in detail.
Page Title
An important SEO factor for a website, the page title is the tag which specifies the title of the page.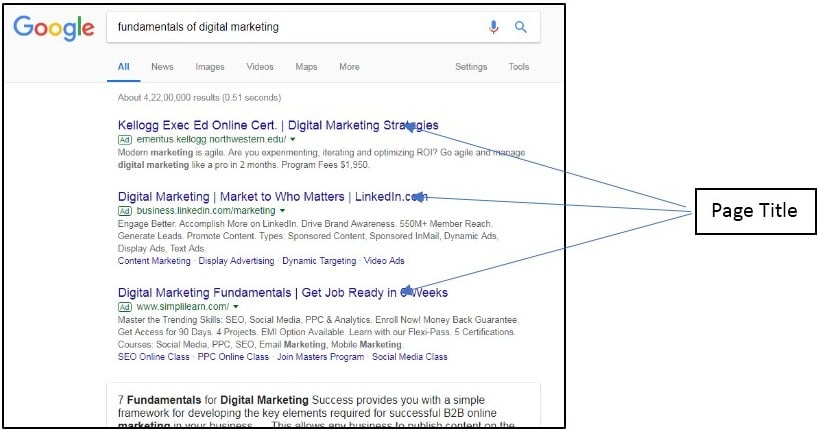 The title tells search engines what the page is about, must ideally be between 55-65 characters in length and describe the contents of the page in a clear and concise manner. This gets displayed in SERPs(Search Engine Results Page) and should contain a keyword which is highly relevant to the page done through  and has long been considered a key SEO factor.
Meta Description
This is the second most important SEO factor on a page and it is supposed to describe the contents on the page.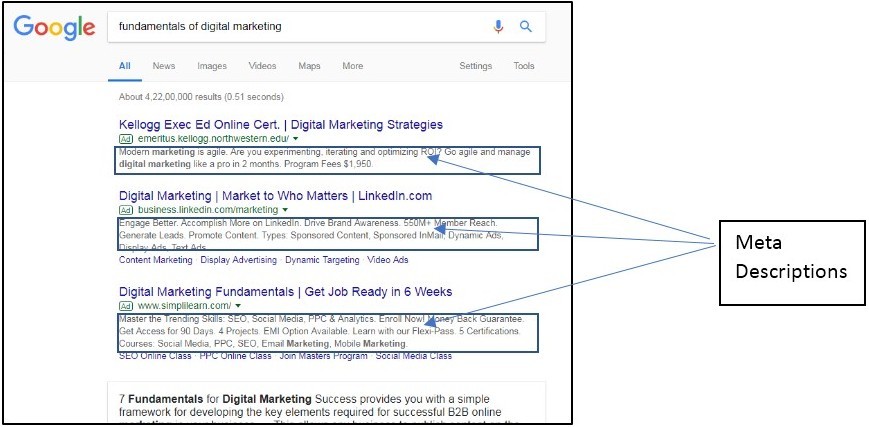 Meta descriptions summarize a page's content and are extremely important since users see descriptions in SERPs and decide whether or not they should click on a search result. Great meta descriptions are what increase click through rates thereby increasing traffic to a website. They need to be carefully worded and well written.
Ideally, meta descriptions should be around 155-165 characters in length in order to be shown correctly in SERPs. Duplicate meta descriptions on a website are a big no-no as they do not provide users any reason to click on the link. Using the right keywords in meta descriptions is the bridge between page content and what users are looking for, so keyword analysis comes in handy here as well.
URLs and URL Structures
Page URLs should be easy to read and unambiguous. URLs need to help identify what is on the page and not include unwanted characters and letters. It should also show the hierarchy of the page and wherever possible, have a domain and a subdomain. For e.g.
https://www.xyz.com/blog/blog-name
where
www is the subdomain
xyz.com is the domain
blog is the category
blog-name is the file name
Using focus keywords in your URLs is also a great idea as they too show up in SERPs. But no keyword stuffing. Shorter URLs are better than longer URLs and it is a good idea to match the URL with the title wherever possible. Remember, hyphens are always better than underscores when it comes to word separators.
Site Speed
The time taken for a website to load on a desktop or any mobile device is site speed.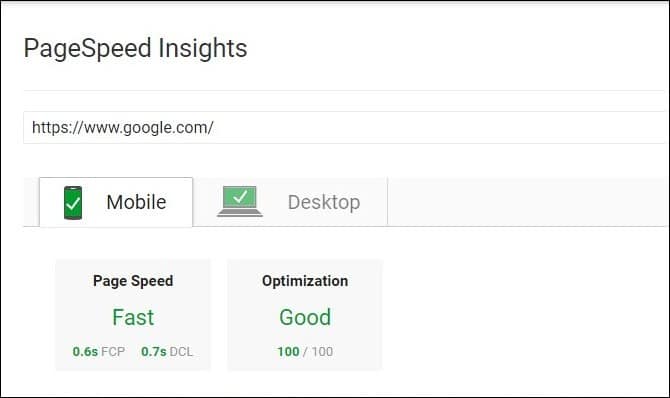 Google has stated that website speed is an important ranking factor. Due to this, you need to make sure that your users are not made to wait more than a couple of seconds. User experience improves drastically with fast loading websites and has a huge influence on bounce rates.
During an audit, when you identify site speed you will also be given a list of recommendations which will help improve the speed. Ensure that all the boxes are ticked and the recommendations taken care of.
Heading Tags
It is a good idea to structure the content on your page into smaller sections with headings for each section. This enables easy reading and visitors can quickly glance at the headings in order to find what they are looking for. These headings are the h1, h2, h3, h4, h5 and h6 tags with h1 being the most important and h6 being the least.
The h1 tag is usually the title of the page while the other tags will be used for subsequent content. Keywords should be included in the h1 of the page. Search engines use these tags to determine what is important on a page, so make sure you follow the hierarchy of h1 all through to h6.
Image SEO
Images are an important and essential part of any website. They add appeal and prevent website content from being just large walls of text. More often than not, every webpage has an image. But remember, images need to be optimized for SEO or they will turn out to be a bane rather than a boon.
Firstly, ensure that the images are of high quality and are relevant.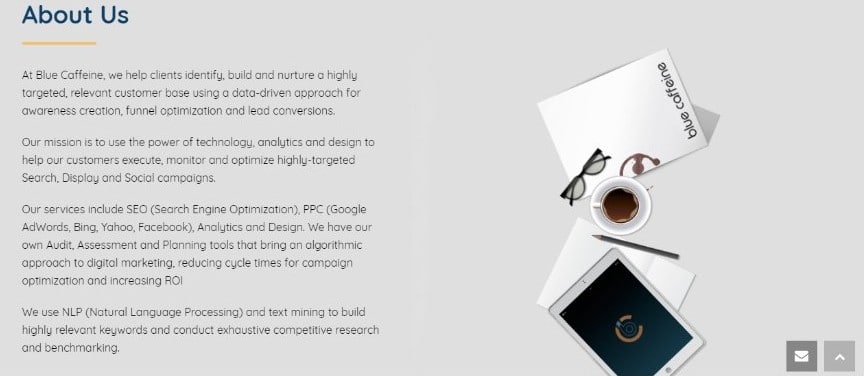 Next, use the images to complement the content on the page and not stick out like a sore thumb. The ALT text of the image must describe the contents of the image as search engines associate keywords from the ALT tag text. Search engines use this text to determine if the image will appropriately answer a user's query.
Lastly, an image sitemap helps Google and other engines discover all the images on your website thereby increasing the likelihood of showing up in search results.
Sitemap
A sitemap is an XML file which lists the pages on your website. It informs search engines about the organization of your website content. They come in handy as search engines can easily crawl web pages with the help of a sitemap.
It is essential that the website's sitemap is submitted to the Google Search Console in order to increase chances of your pages being indexed. Keep in mind that only once a page is indexed, can it be found on Google. Make sure that your website has a sitemap and it is updated when new pages are added
Robots.txt
This text file tells search engines spiders or robots which pages are to be crawled or not crawled on your website.

It is placed in the website's root directory. Webmasters can tell search engines which pages need not be crawled which then increases the chances of more valuable pages being displayed in search results.
For instance, you might not want users to view the 'admin' pages and this can be done by including it in the robots.txt file as pages not allowed.
Internal Linking
This is one of the most overlooked SEO factors on websites but it is a vital one. They serve as guides for search engines and help them identify which pages are more important. When users are searching for something specific, it would be less than ideal if search engines return a generic page instead of the more accurate one especially when content is available! This could happen if pages are not linked properly.
Internal links should be present on all webpages.They should lead to the correct destination pages and include the right keywords. They help identify the layout of your website and establish hierarchy with category pages, main pages, sub pages etc. Visitors also find them useful as they give them more reasons to move on to the other pages of the website rather than just having to exit the website entirely thereby decreasing the bounce rate.
Conclusion
The aforementioned SEO factors need to be taken into consideration for any website audit. They help identify if your website is compliant and serve as a checklist to identify why your website isn't ranking in SERPs or generating traffic.
That being said, this list does not guarantee SEO success. One important aspect which hasn't been mentioned is the actual content on your website. It is vital to remember that content is what sets you apart from competition. If the website content isn't organized, well-written and useful then all the SEO factors in the world will not help improve traffic.
Content is key to any website and the right mix of content and SEO factors is what will bring in traffic to your website and set you apart from all others.