Email Marketing vs Marketing Automation
Email Marketing vs Marketing Automation
In the world of digital marketing, Marketing Automation is a common term all marketers come across and use. Many people think of email marketing as an effective part of online lead generation and it surely is. Scholars define marketing automation in many ways. But, here's our definition in much simpler and easier terms- Marketing Automation is a user engagement process that serves relevant content at the right time to the users and seamlessly pushes them down the marketing funnel.  To make you further understand the in and out of marketing automation, we will be touching upon various points like what tasks it performs, how is it useful, and what are the tools and platforms involved
Often people think that email marketing and marketing automation are two different things, in fact, email marketing is a component of marketing automation. Sales and marketing professionals have never had so much insight into users' interests and buying intentions, before the onset of digital user engagement. At a smaller scale, it's easy to leverage these insights to drive business goals. But as the business grows, building and maintaining great customer relationships has become a challenge. This is where marketing automation proves to be helpful.  While email marketing is a channel to touch base with users, Marketing Automation is an elaborate process to maintain a relationship with users at scale.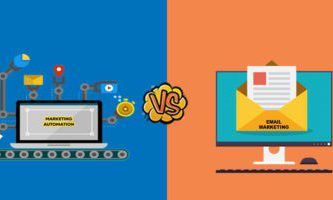 Difference between Email Marketing and Marketing Automation?
Here's a breakdown of the differences between email marketing and marketing automation.
Multi-Channel Marketing:
Email Marketing involved channel level activities like building email content, templates, subject lines, sending emails, working on email delivery speed and track actions.
Marketing Automation involves Executing email campaign, strategizing the content distribution flow through the email campaigns, manage blog posts, landing pages, social media marketing, and mobile app notifications
Alerts and Notifications:
Email marketing does not provide feedback to your business processes like CRM for further action
Marketing Automation contributes to CRM by providing real-time alerts for the sales team
User Interaction:
Email Marketing can track only the actions taken by the recipients of your emails
Marketing Automation platforms can monitor each and every digital interaction a lead has with your business
Measuring ROI:
Email Marketing cannot determine if a prospect is a qualified lead or not.
Marketing automation platforms can track the full journey a lead takes and (usually) see the exact path to purchase, including any subsequent actions taken outside of email. Instead of making assumptions about purchase behavior, you can actually map it and that lets you see which actions and assets actually drive conversions and sales, and which ones need more nurturing.
You can see that Marketing Automation has high definition business view when it comes to user engagement while email marketing is limited to campaign level views
How is Marketing Automation Helpful?
So, jumping into the next common question- How is marketing automation actually helpful? Here are a few activities that marketing automation workflow can be configured to perform:
Sends scheduled emails to mailing lists
Schedules blog content and newsletters
Automatically responds to email inquiries
Sends outreach emails
Fetches leads and categorizes them based on behavior
Tracks visitors through website pages
Collects contact information
That's surely a lot of work that marketing automation can help us achieve! The above-mentioned points can further be broken down to help understand the importance of marketing automation
Boost Conversion Rates
Create Personalized Content
Processes Leads
Boost Conversion Rates

: It's obvious that new customers rarely purchase from a business the first time they learn about it. By helping your audience learn more about your products and services through regular, thoughtful content, you will be able to educate your users better and maintain recall. This will boost conversion rates as users will come to you when they are ready.

Creates Personalized Content

: Do you know that psychology plays a big part when it comes to personalized content? The more the content is personal the more you get connected to it. Moreover, it tells your brain you are presented with the information you exactly need or are searching for. We all know relevance is a key player in driving user engagement and personalized content ensures you are relevant to your user.

Processes Leads

: It is usually the scope of the marketing team to drive leads to the sales team, while the sales team process them and convert to revenue.  So, it becomes the prerogative of Marketing personnel to provide valid leads to the sale team, these leads are usually called Marketing Qualified Leads (MQL). Marketing automation plays a key role in setting up business rules that make a qualified lead and take corresponding actions on leads to drive exploring users into qualified leads. If these are in 10s or 100s an excel sheet may work fine, but with a distributed workforce, across various locations and a large sales team, a marketing automation platform empowers marketing teams to size up as the business requires with efficiency.
Types of Marketing Automation
Based on the type of business and marketing goals, Salesforce classifies marketing automation into four main categories to cater and suit the specific marketing and sales needs of each industry.
B2B Marketing Automation
B2C Marketing Automation
Small Business Marketing Automation
Mobile Marketing Automation
This is better explained by salesforce here. Irrespective of the categories, a Marketing Automation platform should be able to help your marketing team. perform all or some of the following activities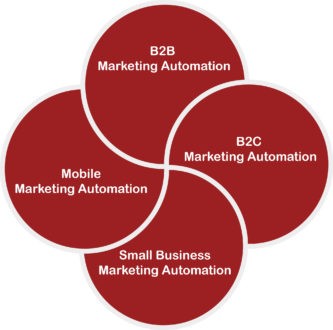 But, it is also important that even a marketing automation tool follows a proper flow to get things right at the right time to the right people.
Attract
Convert
Qualify
Report
Attract

: This involves the generation of traffic by sharing your brand's story in a unique way. This can be done with the help of content, blog posts, Downloadable PDFs, Infographics etc. These involve landing pages to be developed
Convert: This is where you convert your visitors into leads with the help of contact forms, call to actions (CTAs), and personalization if applicable

Qualify

: This is a crucial stage because some leads tend to bounce off and as a result, we would end up losing valuable leads, so it's important to nurture these leads in the form of coupons, creating personalized notifications, providing more depth of content and encourage users to engage with multiple assets. This is where the real power of automation platform comes that can help you define marketing rules for different types of user behavior and qualify leads based on a score attributed to the user based on their interactions with your marketing content. This is called lead scoring the key functionality of all marketing automation platforms

Report

: Lead flow reports are viewed across departments right from C-level executives to the sales team in order to understand business performance and any optimization opportunities. Marketing automation platforms should be able to provide powerful reporting and dashboarding tools that cater to all departmental needs across the marketing value chain
Marketing Automation Tools
After knowing what marketing automation is and how it works, it is mind-boggling to choose which tool would cater your needs perfectly. Some platforms are better at email, others social media and then analytics. Then there is the user interface and ease of use. So, keeping these in mind, we've filtered out a few popular marketing automation tools:
HubSpot Marketing – HubSpot considers itself as an inbound marketing tool that focuses on growing traffic and increasing lead conversions. With robust tools for blogging, emailing, SEO, marketing automation, lead management, and analytics, it helps in launching great campaigns. Although it isn't exclusively a marketing automation tool it also does everything to make it a perfect and convenient tool for all your needs.
Salesforce Pardot – Pardot is one of the best marketing automation tools that you can use for boosting your revenue. This tool is perfect for helping sales teams shorten sales cycles. Features like Email and landing page A/B testing, advanced dynamic content, and Google AdWords integration are included as well.
Constant Contact – Constant Contact delivers powerful emails in a very efficient and simple way. What makes this tool unique from the others is that it offers Facebook fan promotion, coupons and deals, and event management. Constant Contact is suitable for small business owners who need help in quickly getting started with organized email marketing.
Marketo – Marketo is a cloud-based marketing automation tool that you can rely on. It has a full set of features that not only help marketers manage email campaigns, but it also has amazing tools that the sales team can use.
Customer.io – Customer.io is renowned for its flexibility.  It also provides fast, personal customer support. Unlike most of the older tools, Customer.io is built to trigger emails based on events.
Here you go, hope this makes it easy for you to choose which marketing automation tool is the best for your business.
Your main aim is to build lasting relationships with your leads and keep attracting new ones. Marketing automation streamlines the delivery of your content and helps you engage them continuously until they are ripe. So, yes – go for marketing automation!